THIS COMMUNITY STILL ROCKS

Don't let anyone tell you different.
I will now attempt to get through this without the tears. (good tears)
First off, we now have food....because of you guys and I think that is pretty flippin cool.
Thank you so much for helping us during this time, it means more to me than anything.
I was really worried about asking for help , thanks for reassuring me that I wasn't being some terrible person for doing so.
It's a tough time but I feel so optimistic , I know things will work out. I always see the bright side of everything anyway, but right now, I really feel like there are reasons I am standing in this place at this time. I have a feeling someday I will look back and see this time as 'where it all began'.
If I can do anything for any of you, please, please let me know. I am forever grateful.
And John `
kkart
, you are the real deal and I have told you this before, your heart is kind, your friendship is true and I will always appreciate what you have done for me. (a few times)
Knowing you are always in my corner, knowing how much you really care has made a difference in my world. Thank you.
~~~~~~~~~~~~~~~~~~~~~~~~~~~~~~~~~~~~~~~~~~~~~~~~~~~~~~~~~~~~~
I really don't like doing this, it's very difficult for me to ask anyone for help, it has always been that way for me but it's not just about me.
On July 26, 2012, my employer/friend/room mate died in front of me from an abdominal aortic aneurysm. His name was Marven and he was 72 years old. He was my best friend.
With his passing I am now left with no job and a 7 year old little kid to support. We live 10 miles off the maintained road up in the mountains. My daughter Haley goes to school 10 miles away from our home and we have no bus that runs out here. These gas prices are just killing me, as I am sure they are everyone but they are actually taking the food from our table at this point.
I have had the help from friends and family and I just can't ask them for any more help. I have applied for assistance but it's not happening soon enough. I am a photographer and my lifeline at this point is my internet sales but I can't even afford to pay my internet charges and when that goes I will really be struggling to just survive.
Anyone who knows me knows that I am a fighter and I will make it through this no matter what but I just need a bit of help at this point.
I know times are rough for all of us, please know I would never do this unless I felt it necessary.
I just need to feed my kid and get her to school.
I created a chipin account
[link]
and it felt so weird doing that for us but I am scared at this point and I have to try anything.
If you can help here is the link to do so
[link]
I appreciate you whether you can help or not, know that.
THIS COMMUNITY STILL ROCKS
---
Remembering Roo
...My 6 year old Haley says that Roo is singing this song to us from Rainbow Bridge....
You can read about Roo
Here
.
A Rescuer's poem
I am an Animal Rescuer
My job is to assist God's creatures.
I was born with the drive to fulfill their needs.
I take in helpless, unwanted, homeless creatures without planning or selection.
I have bought dog food with my last dime
I have patted a mangy head with a bare hand
I have hugged someone vicious and afraid
I have fallen in love a thousand times
And I have cried into the fur of a lifeless body
too many times to count.
I have animal friends and friends who have animal friends.
I don't often use the word "pet".
I notice those lost at the road side and my heart aches
I will hand raise a field mouse
and make friends with a vulture
I know of no creature unworthy of my time.
I want to live forever if there aren't any animals in Heaven
but I believe there are
Why would God make something so perfect
and leave it behind
Some may think we are master of the animals
But the animals have mastered themselves
Something people still haven't learned
War and abuse make me hurt for the world
But a rescue that makes the news gives me hope for mankind
We are a quiet but determined army
And we are making a difference every day
There is nothing more necessary than warming an orphan
Nothing more rewarding than saving a life
No higher recognition than watching them thrive
There is no greater joy than seeing a baby play
who only days ago, was too weak to eat
By the love of those who I've been privileged to rescue
I have been rescued
I know what true unconditional love really is
for I've seen it shining in the eyes of so many
Grateful for so little
I am an Animal Rescuer
My work is never done
My home is never quiet
My wallet is always empty
But my heart is always full
Written from a wild heart by:
Annette King-Tucker, Animal Rescuer
Wild Heart Ranch Wildlife Rescue
The people that I admire and call my friends....











My Heart....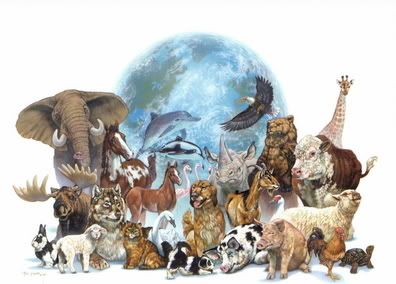 This Journal Skin was designed by ~
Night-Beast